Motion at Noho.
Motion Package $ 350.00/day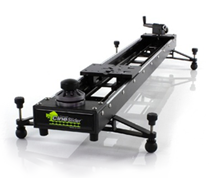 Our Motion Package expands on our flat rate packages to include a range of motion accessories for our Canon 5D MKIII system. The motion package adds a complete Redrock Micro cinema bundle for the studio and field, including 15" rails, Matte Box, Follow Focus with 12" whip and 5" Marshall LCD monitor. Also included are the Kessler 3ft. CineSlider linear-tracking mini-dolly which can be mounted on tabletop legs or on our Hercules 2.0 head to achieve panning and tilting movements.
Other camera support options include the Sachtler 0351 system Cine DSLR Fluid Head with the ENG 75 Tripod or the Kessler K-Pod support system. Our Lens Kit features the Zeiss EF mount ZE Distagon T* 3.5/18, 2/28, 2/35, Planar T* 1.4/50 and 1.4/85 in addition to our full complement of Canon L series AF lenses.
All of the above for a flat rate of $350.00 added to our standard studio flat rates.